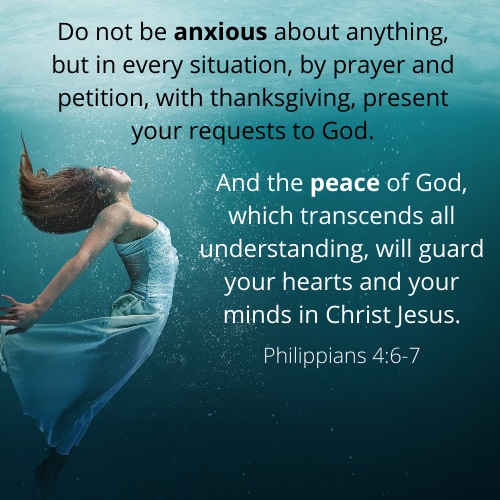 "Do not be anxious about anything, but in every situation, by prayer and petition, with thanksgiving, present your requests to God." (Philippians 4:6) – Increasingly we find ourselves surrounded by bad news – wars, crime, sickness, disasters, hatred….and we can easily feel overwhelmed. God offers us a "peace which transcends all understanding" in Christ (Philippians 4:6). But how do we access this divine peace?  We stop reading too soon. God tells us…
"Finally, brothers and sisters, whatever is true, whatever is noble, whatever is right, whatever is pure, whatever is lovely, whatever is admirable—if anything is excellent or praiseworthy—think about such things." (Philippians 4:8)
God is not telling us to fill our minds with news, social media, entertainment, and conversations that focus on the evils of this world – rather to read His Word more – to talk about and listen to Godly conversations. And the result? It's in the final verse. 
"Whatever you have learned or received or heard from me, or seen in me—put it into practice. And the God of peace will be with you." (Philippians 4:9)
This is God's immediate divine peace solution to us living in our world. When we focus on pure things, on divine conversations, on Bible meditations, the difference is amazing – divine peace. May the God of peace be with you.